The Constitutional monarchy of the United Kingdom consists of England, Scotland, Wales and Northern Ireland and is surrounded by water, having a land border only with Ireland. The capital of the UK is London, a city with a leading presence in global business, finance, art and culture and a diverse range of people among its 8.6 million inhabitants* This CareerProfessor.works infographic will walk you through the basics of what is needed to survive in the UK workplace.Click here for a legend of the infographic.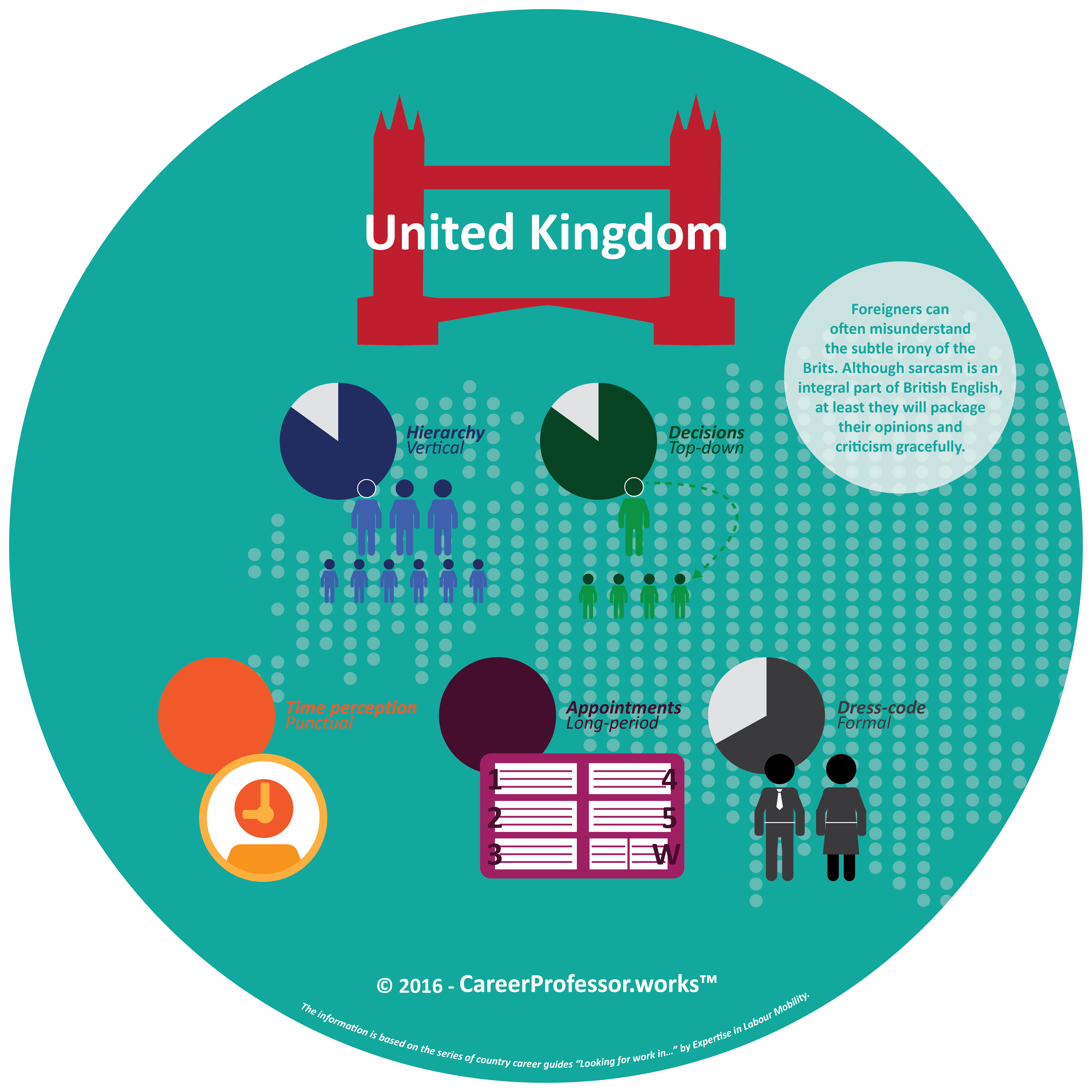 Hierarchy
The traditional British organisational structure is a pyramid, consisting of many layers and a strong vertical hierarchy. The British communication style and their eloquent choice of words can make proposals seem provisional or open to discussion, however, this is not the case. The friendly, not very status conscious attitude of most managers does not imply that they are not the sole decision-maker.
Decision-Making
Meetings are an important management instrument: all important decisions will be brought up, discussed, negotiated and passed through during the meeting. Decisions that can be made at a lower level often need the approval of the entire board of directors. It can take quite a long time to actually reach an agreement. However, decisions are always well considered and once made, they are implemented at high speed.
Time Perception
At meetings the British are always on time, but they've formalized being a bit late to social events. It is almost impolite to be dead on time! People are often up to ten minutes late for work, lunch and so forth, but never later than those ten minutes! Moreover, British managers tend to work long hours and they are likely to take work home, and reduce (or miss out) lunch breaks.
Appointments
Appointments and meetings are set well in advance. Because people are often at their desks due to the high number of meetings, email memos are frequently used. The British schedule a lot of phone or skype meetings, easy to catch up, quicker than a long journey, and more personal than email.
Dress Code
The dress code in the UK used to be very strict, however, this seems to be changing considerably over the last few years. In general, men wear suits, ties and white, striped or coloured shirts with black shoes and women wear suits (with trousers or skirts) or dresses, often paired with (high) heeled shoes.
Sevi Christoforou,
CareerProfessor.works team
* The effects of the Brexit are yet unknown and may have an impact on, for instance, London's role as a financial centre.
Have you already read about the work culture in Brazil?
© 2017 CareerProfessor.works. All Rights Reserved.
Comments
comments