Read the CP Magazine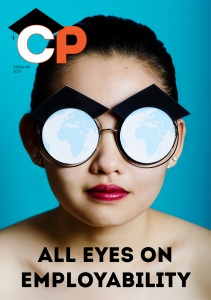 Employability seems to be receiving increasing attention lately in the world of Higher Education. And for a good reason! Students call for it, employers look for it and Higher Education Institutions are expected to provide it. But the quest for employability can become tricky when a clear definition is missing and expectations seem to vary.
This first edition of CP Magazine focuses on exploring the concept of employability within Higher Education in order to identify potential 'hitches' and solutions and open the way for a common approach to employability.
Through the following pages, we will find out more about (mis)match in expectations when it comes to employability, insightful research results, and resources and last but not least, the concept of employability through the lens of gamification.
Read the CP Magazine here.
CareerProfessor.works on video
News Board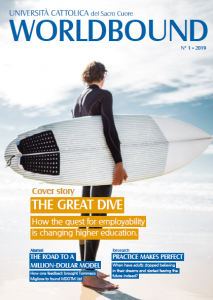 The brand new magazine of Università Cattolica del Sacro Cuore zooms in on 

employability

helping us to understand how we can support 

students

with

skills

 for the 

#

global

world of work. Proud to have our app CareerProfessor works being mentioned! Have a look at the article here.
---
CareerProfessor.works

 is an employability app & platform designed for students, recent graduates and alumni, customized to each university. It improves 

employability

trains intercultural skills and enhances the connection between

University

 and 

graduates

.

But don't just take our word for it, have a look inside

 each CareerProfessor module and choose what suits the needs of your institution best!
On October 4th, CareerProfessor hosted the webinar 'Linking Career Advisors to International Offices', to discuss the current needs and challenges in HigherEd career services related to employability and soft skills training and how university career-services professionals can stay relevant and have an impact on a broader scale within their institution. This webinar brought together global voices discussing employability-connected thinking from Europe, Canada and the USA.
CareerProfessor is featuring in the Actors & Institutions section of the Higher Education Worldwide newsletter. Don't forget to also have a look at the article about the skill sets graduates need in the future workplace by Nannette Ripmeester, which can be found in the new issue of Internationalisation of Higher Education.
 At the AIEA Conference 2018 in Washington DC, Nannette Ripmeester in a session with Darla Deardorff and Elaine Meyer-Lee, demonstrated CareerProfessor live, showing also the new leaderboard feature. Gamification prepares students for the international job market!
Exploring the alignment between career needs, employability expectations, and related motivations. An article in The Xpat Journal about CareerChats unveils the most important questions: What is it that employers look for in a candidate? What do students expect from their university? And so much more.
The first edition of CP Magazine is here! Click here to read all about mismatch of expectations, employability and much more!
In this winter edition of Vista Magazine Nannette Ripmeester and Sevi Christoforou explore the mismatch between international study experiences and employability expectations. Is employability the holy grail? Read on and find out!
 In this article, Nannette Ripmeester is giving you a preview of our brand new project CareerChats, which aligns the bridge between international students, global employers and higher education professionals. The full article is published in the first official edition of CP Magazine!.
 CareerProfessor is mentioned in NAFSA's magazine 'International Educator' as an example of helping students connect international experience and future careers.
What's it like inside of CareerProfessor.works? This video is a unique chance to see the registered user journey.
What can CareerProfessor.works do for Your higher education institution? This video shows that it's an employability package-deal unmatched by anything else!
Nannette Ripmeester and Sara Custer talking about gamification of careers advice and how the CareerProfessor.works app can support students' employability.
News Archive