How have we ensured CareerProfessor.works is GDPR-proof?
On 25 May 2018, the EU General Data Protection Regulation comes into force. And at CareerProfessor.works we are 100% GDPR compliant!
The EU General Data Protection Regulation (GDPR) replaces the Data Protection Directive 95/46/EC and is designed to harmonize data privacy laws across Europe, to protect and empower all EU citizens' data privacy and to reshape the way organizations across the region approach data privacy.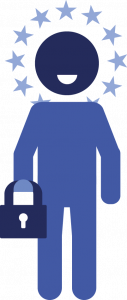 Our aim is to protect customer information, to overcome anything happens to our clients' information. So what have we done and, more importantly, keep doing?
It all starts with Consent. To set up your CareerProfessor account, we specify what we need from you and for what reason in our user registration guidelines – straightforward and with no fuzz. The registration process is designed in a secure manner and information is sent encrypted. No information is saved intermediary and each of the questions we ask serves a purpose: They will provide the necessary information to provide feedback to you. The email address and password you use, are of your own choice and not generated by us and stored encrypted and not accessible.
Depending on the service level of your institution's subscription, we may ask for limited personal details (such as age, level of education). This information is ONLY used in anonymized and aggregated format. We do not use the information in any other way, apart from aggregated reporting purposes. No information allows others to identify individual users. Our CareerProfessor.works user registration guidelines specify exactly the purpose.
We consider this self-explanatory, but just in case you were wondering: we will not provide data to commercial organizations. Only for the purposes you gave specific consent for, your data may be used.
Privacy by design  has been part of CareerProfessor from the start and it is at our core.
Right to Access is your right to obtain a copy of your personal data, free of charge, in an electronic format. If you are using CareerProfessor, simply click the button 'I want a copy of my data' and you receive straight away everything we hold on file regarding you. Now what we hold on file is rather limited, as we only use the data we need to set up your user profile and, depending on type of user agreement and if applicable, we may ask some additional questions for your institution to understand where you are now in your career.
Data Portability is the right to transmit data to another controller. Well, again, simply click the button 'I want a copy of my data' to receive the data we keep in electronic format and we have no problem if you move it to another controller.
Of course, you have the Right to be Forgotten!  Although we would regret to see you go, just tell us and we erase your CareerProfessor profile entirely!
Our systems are designed to allow this, so it's a piece of cake (just so you are aware, it will also mean you can no longer play the CareerProfessor app and progress your score on the leaderboard or access the country & career information).

Breach Notification : If the worst comes to the worst, yes, we will report within 72 hours that a data breach has happened. But we are pretty confident, our systems are secure and GDPR compliant.
Last updated: 25 May 2018 |© 1992 – 2021 Expertise in Labour Mobility BV
CareerProfessor™ is part of Expertise in Labour Mobility BV. ELM's Privacy Policy can be found here.