Canada is the world's second largest country, with its ten provinces bordering the Atlantic and the Pacific Ocean. With a long tradition of immigration and an inflow of population accounting to 60% of the total population growth, Canada has created an ethnically and culturally diverse society. This CareerProfessor.works infographic will walk you through the basics of what is needed to survive in the Canadian workplace. Click here for a legend of the infographic.Click here for a legend of the infographic.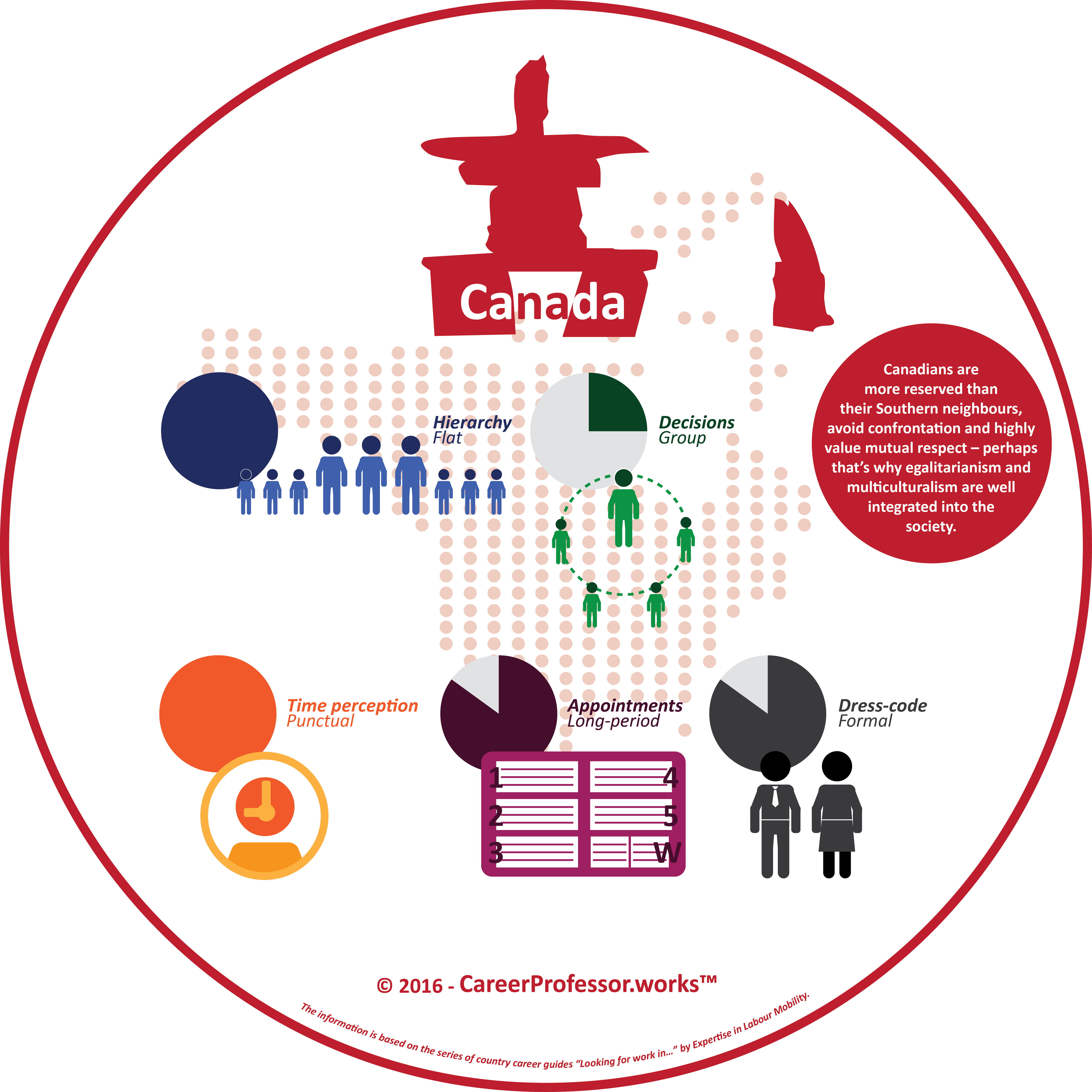 Hierarchy
The organisational structure of most Canadian companies tends to be rather flat. Employees expect motivation and positive feedback from their superiors. Individuals are often seen as experts in their fields of expertise and are being assigned comparatively high responsibility. While employees generally act loyally towards their company, most business sectors in Canada are known to be rather competitive working environments.
Decision-Making
Although meetings can take place in an informal and relaxed manner, they are always serious in content and have a clearly defined purpose and agenda. Leaders expect open dialogue among participants. Before the end of the meeting a list of actions, tasks and responsibilities should be in place and if appropriate, the next meeting is also scheduled. Subordinates are allowed to take decisions after their manager's approval.
Time Perception
It is essential to always be on time and in Canada being on time means at least 5 minutes early. Most offices are open from 8.00 a.m. to 6 p.m., Monday to Friday. However, flexible hours are quite popular due to major traffic delays in and out the urban centres and due to a 4.5 hour time difference from one coast to another for companies that have multiple offices.
Appointments
Appointments are scheduled in advance, although notice can be rather short. Once you make an appointment make sure to keep it and be on time. Being 5 minutes late can be acceptable if there is an apology or a good excuse, but being 10 to 15 minutes late requires a phone call.
Dress Code
What is being considered as appropriate clothing for business varies widely, both between regions and between professional groups. Professional attire is appropriate for an office environment or a business meeting. For work outside the office, a more casual look is acceptable. Typically, the colour of clothing varies per season: dark colours on winter, lighter colours for spring and summer.
Sevi Christoforou,
CareerProfessor.works team
Have you already read about the work culture in Russia?
© 2017 CareerProfessor.works. All Rights Reserved.
Comments
comments