Italy! The land of "La Bella Figura" has a strong heritage in history, architecture, art, culture, religion, fashion, food… and the list can go on! Italians are well-known for their sophistication and eye for style but they are also praised for their hospitality, strong sense of community and sociability – traits reflected in every aspect of their daily lives. Located in southern Europe, it has land boundaries with France, Switzerland, Austria, Slovenia, San Marino, and Vatican City and with around 61 million inhabitants it is the fourth most populated European Union member state. The population can be diverse and some regional differences are more noticeable than others but if you are about to take the leap and move to Italy for work, our CareerProfessor.works infographic below will prep you for the challenges you will encounter in an Italian working environment. Click here for a legend of the infographic.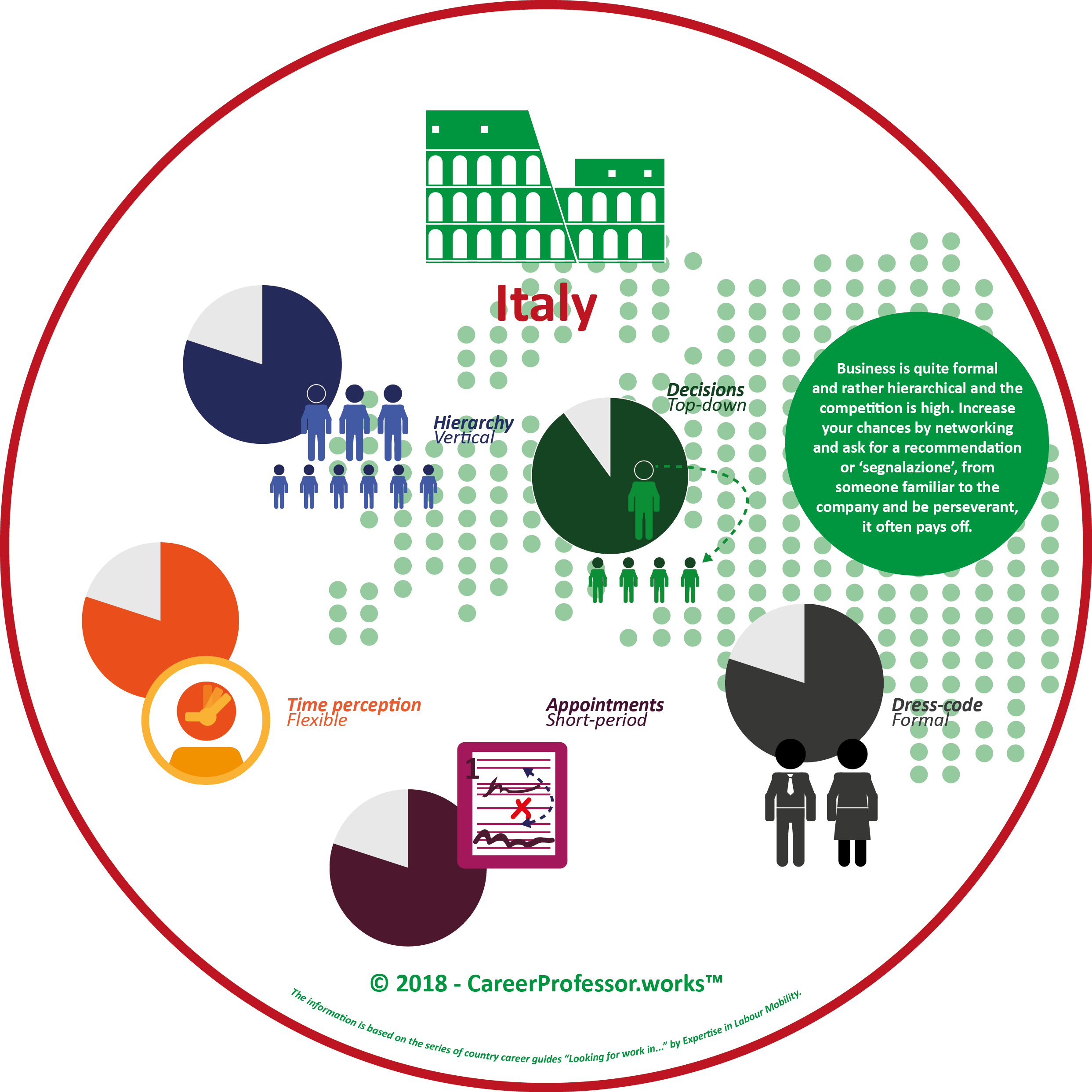 Hierarchy
Most companies in Italy have a rather hierarchical structure based on traditional leadership. Italian organizations have a clear division between ranks and little association amongst employees of varying statuses. However, in Italy authority is not only based on your technical abilities and seniority, but also on your personal qualities. Keep in mind that hierarchy in organizations is strict!
Decision-Making
Decisions are usually made privately before the meeting by senior managers or the director of the organization. The meeting itself is usually to evaluate the atmosphere and test the support of colleagues. Trying to reach consensus or making decisions is not the key activity during meetings. Italians are strong in creating holistic solutions which prove to strengthen personal relationships or help improve the profile of the participants. Inspiration and attention for the 'big picture' are also important.
Time Perception
Italians like to multitask! Therefore, meetings might start 10-30 minutes late, due to other meetings taking longer than expected or potential ad-hoc tasks during the day. Especially on social occasions, Italians are generally 15-45 minutes later than the agreed time. However, when it's time for important business meetings, everyone is always on time.
Appointments
Appointments can be made on short notice. Italians are rather flexible with their time. In case you have made an appointment a long time in advance, it is advisable to verify it prior to the meeting. Generally, the best time to make business appointments is in morning between 10:00 and 11:00 or after 15:00 o'clock in the afternoon. Also, lunch appointments, at a nice restaurant, can be effective.
Dress Code
In Italy, the way you dress is a reflection of your personality. Italians like to make a good impression with their clothes, therefore, you need to dress to impress! The business dress code is neat and formal and even though you are not expected to dress according to the latest fashion, this could really work in your favor. Men wear suits and women wear dresses or pants suits but always with a feminine touch. Do note, first impressions make lasting impressions on Italians.
Katinka de Jong,
CareerProfessor.works team
Did you know that work culture in Italy is very different from that in Spain?
© 2018 CareerProfessor.works. All Rights Reserved.
Comments
comments