The United States of America, the world's third largest country, is a multicultural blend of 320 million people of mixed race and backgrounds. Though you might think the work culture in the United States is not distinct because of this large variety, the opposite is true! A basic understanding of the U.S. business culture is essential to your success. This CareerProfessor.works info graphic provides you with insights that help you avoid common faux pas! Click here for a legend of the infographic.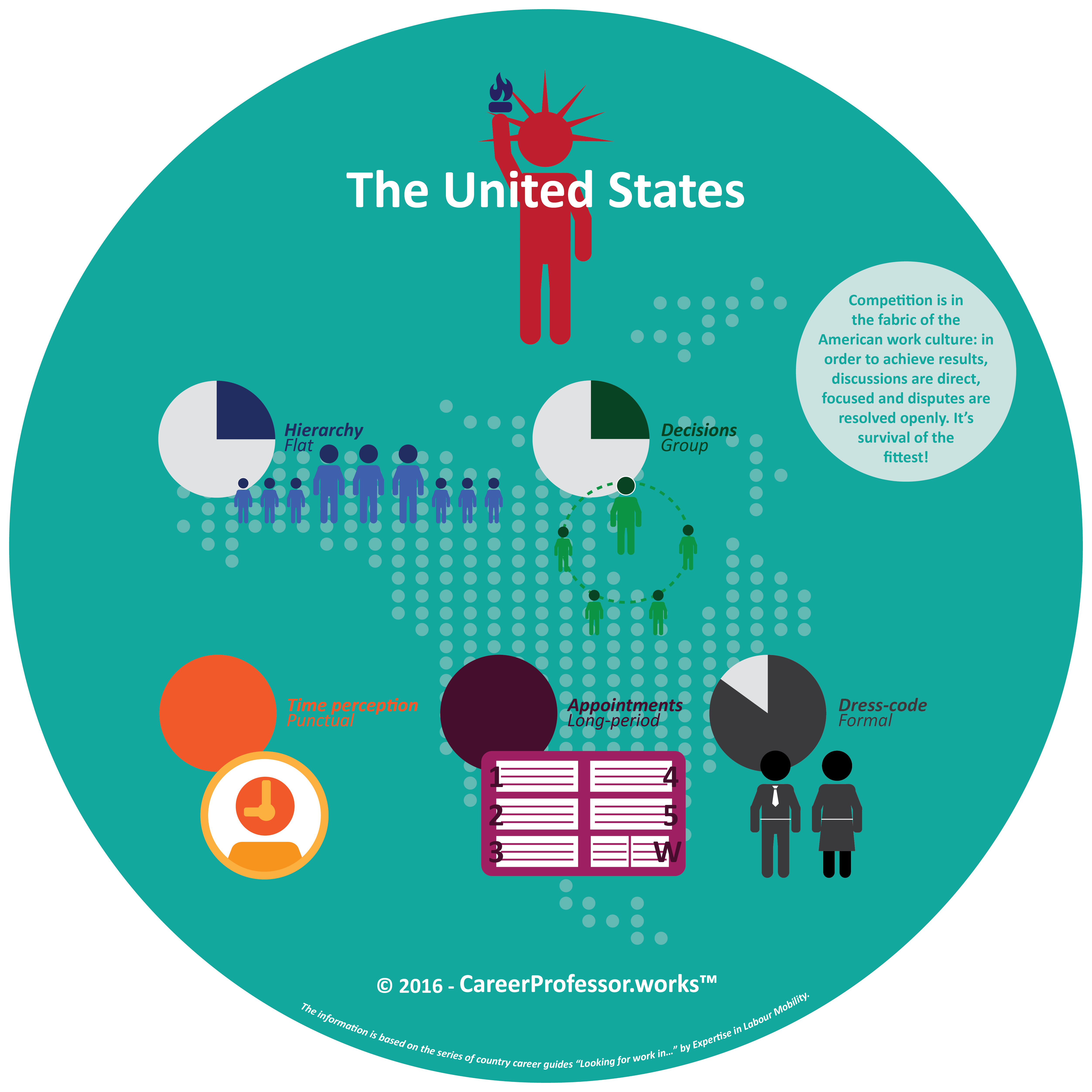 Hierarchy
American organisations have quite a flat organisational structure but with a clear chain of command and detailed instructions. Hierarchy is predominantly established for convenience. Superiors are accessible and managers rely on individual employees and teams for their expertise. Employees are motivated strongly by their superiors but there is little direct criticism in either direction. Members of staff do however expect constant feedback on their work.
Decision making: "Yes, we can!"
Americans say exactly what they mean, words do not contain a hidden meaning. In American English "maybe" means "it might happen", whereas in British English "maybe" often indicates a "no".
When making decisions, American managers are categorized as having a high performance orientation. Decisions are driven by competitiveness, and are very result-oriented. The American decision style reflects a high need for achievement. When business leaders in the U.S. make decisions, these decisions will either respond to challenges or create opportunities for their efforts to be recognized and praised by others.
Time perception
Punctuality is extremely important in the U.S. Being on time – especially at meetings – is essential for your success. Five minutes late with an apology is acceptable, but ten to fifteen minutes late requires a phone call to warn of the delay and apologise. Being late can be seen as a sign of disrespect.
Keep in mind that being on time in the U.S. means being at the given spot at least 15 minutes before the actual meeting!
Appointments
With concern to planning, Americans plan ahead; but long-term strategies tend not to exceed three years. Keep appointments once they are made. Meetings may seem quite relaxed, but they are taken seriously. If there is an agenda, it will be followed.
Dress code
The U.S. offers the widest range of different business dress codes. What is considered appropriate clothing for business varies widely, both between regions and between fields of employment.
Most American companies expect their employees to maintain an official dress code, hence do some research on the dress code in advance!
When going for a first business meeting or a job interview, start with professional. You can always dress down after you have had the chance to observe what people wear in the office. The main rules: Men should wear matching socks that do not show leg; Women should always wear stockings.
Babet Agten,
CareerProfessor.works team
© 2017 CareerProfessor.works. All Rights Reserved.
Comments
comments