Always look at the camera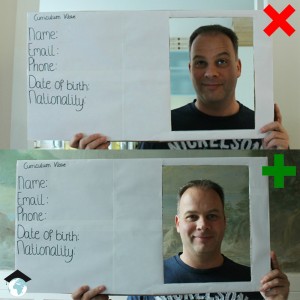 When taking a CV picture, always look at the camera, exactly as you would do for your passport picture. This is because you want to give the impression that you are confident of your skills and experience; similar to what you should do once in a face-to-face interview. Looking the interviewer straight in the eyes shows confidence and interest on what he/she says.
Appropriate lighting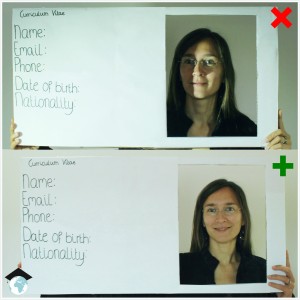 Make sure that the picture has the appropriate lighting. Avoid poorly-lit or blurry pictures, as well as special effects or other filters. This is what Facebook and Instagram are for.
Use a CV picture specifically captured for this reason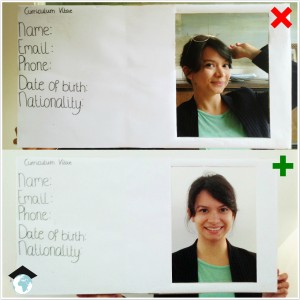 It is always good to use a CV picture that you look nice in, but do not forget that your primary reason is to make a positive first impression to the recruiter. Hence, in your CV picture, you should highlight your professionalism, rather than your charm!
Avoid unnecessary accessories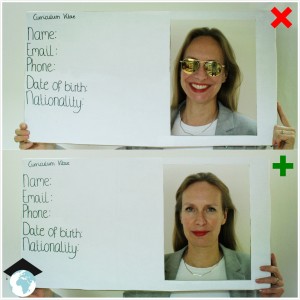 No holiday snaps! Try to refrain from unnecessary accessories that may cover part(s) of your face. The first impression is really important. If the employer is notable to immediately see your facial characteristics, it is quite likely that he or she will not to consider you in the recruitment process due to your diluted image!
No facial expressions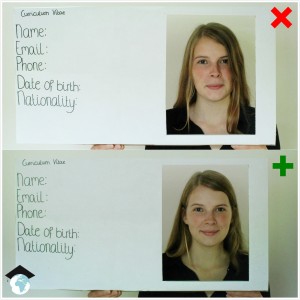 Avoid all facial expressions that might cast doubt on your serious intentions. However, this does not mean that you should look too serious or even angry – as if you were imprisoned for a crime! There is always a middle way and a smile is more than enough to illustrate your professionalism and positive character.
Look smart and serious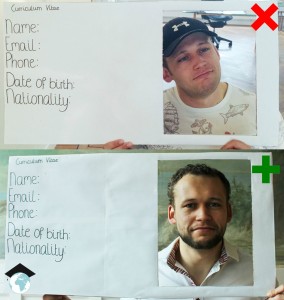 Having a sense of humour is a positive trait, especially when you work in a team, but you want your CV to be taken seriously. Therefore, the way you are dressed is quite important – at least for the visible part in the picture – with smart-casual attire being what you need.
In some countries is illegal to include a picture in your resume, mainly because discrimination might be quite a sensitive subject. In other countries, including a photo in your CV is optional, while in some others it is mandatory. Hence, it is to your benefit to know whether a personal picture should accompany your resume, and most importantly, already have one specifically for this purpose!
The CareerProfessor.works team
© 2017 CareerProfessor.works. All Rights Reserved.
Comments
comments