Here you are, at the last step of your job searching process – and, yes, it will be a digital interview. Good work! Both physical and virtual interviews can feel nerve-racking, but the more you are prepared for what is about to come, the more peace of mind you will have on the big day. While questions tackling your hard skills (technical abilities) for the job will come along as well, you will notice that many of the questions will be focused on your soft skills.
That is why we are here to give you 5 tips to help you succeed at your Zoom interview.
Show initiative
Doing a zoom interview from your own home has perks but also disadvantages. Perks might include feeling more at home and relaxed in your own space, but that does not mean you can lounge back and relax. You will have to show, through your screen, that you are proactive in your approach to the interview. Meaning you will have to show the interviewer that you did research the organization and have questions prepared to showcase you are the driven job candidate they were looking for all along.
Tip: follow-up your Zoom interview with a thank you note.
Organization is key
How do you express your love for being organized to your potential future employer? Even if you may not the biggest advocate of "law & order"… Now, no one is expecting you to be an organization queen/king, unless you are applying for a job at the "Home Edit". Still, the interviewer will expect you to be able to stay organized during hectic times and to include your colleagues in your work progress, to avoid delays. You can expect questions during your interview that will allow you to prove that notwithstanding the situation, you can make a difference in the company!
Be reliable, always
Besides the typical checklist, you go through before any type of online meeting, checking your internet connection, webcam, microphone, lighting and background view, your future employer needs to know that he/she can count on you. Showcasing your reliability starts during the interview process, by being on time and well-prepared. Think of examples that indicate how reliable you will be as their future colleague.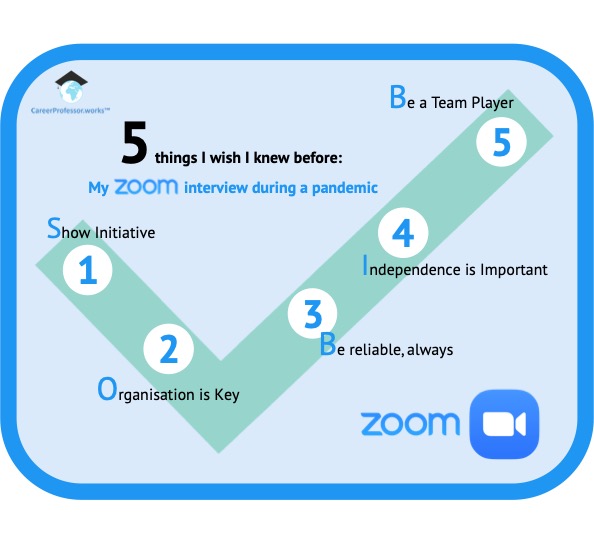 Independence is important
Especially now, approaching the new world of work that the pandemic has created, you will be expected to work independently and find your own solutions to problems to a large extent. Do not get us wrong, when you have tried everything and still are completely clueless, please ask for help. But do not bother your colleagues with every question that pops up in your mind. Knowing the balance between finding the solution on your own and asking for help or input is crucial. Expect your interviewer to ask questions that will challenge you to convey your resourcefulness.
Tip: again, concrete, well-thought-out examples will come in handy and might land you your dream job.
Be a team player
Even though the likelihood of working from an office desk has decreased over the past 1,5 years, you will still be a part of a team, virtually and physically. Therefore, it is important to have adequate communication skills (online and offline) that help you convey your ideas and prevent mix-ups. You might get asked questions revolving around how you have collaborated during projects you worked on for your studies, internships, and previous jobs.
Psssst, think of a good concise example beforehand.
OK, you have thought of your examples displaying your crucial soft skills, you have all the technicalities that come with a Zoom interview taken care of AND you have practiced your most beautiful and genuine smile. Lastly, remember you have already won the first round, it is time to shine and take this round home as well!
Quick last tip, do not wear your PJ bottoms from the night before, even though your interviewer might not know you are wearing them, they will make you feel less professional than if you were wearing your complete job interview outfit, trust us!
Good Luck!
Isabelle Hommes
CareerProfessor.works team
Join a workshop, get a career consult or sign up for a mock interview here
P.S. If you're still in the early stages of your job search, don't forget to check the 5 things to do before your job hunt.
© 2021 CareerProfessor.works. All Rights Reserved.
Comments
comments