India is one of the most powerful emerging economies with the world's second largest population. Located in South Asia, it has land boundaries with Pakistan, China, Bangladesh, Burma, Nepal and Bhutan. As the world's 7th largest country, there are many variations across the land, including industries, geographic segments and on top of that, culture. This CareerProfessor.works infographic will present some things you need to know about the Indian working environment. Click here for a legend of the infographic.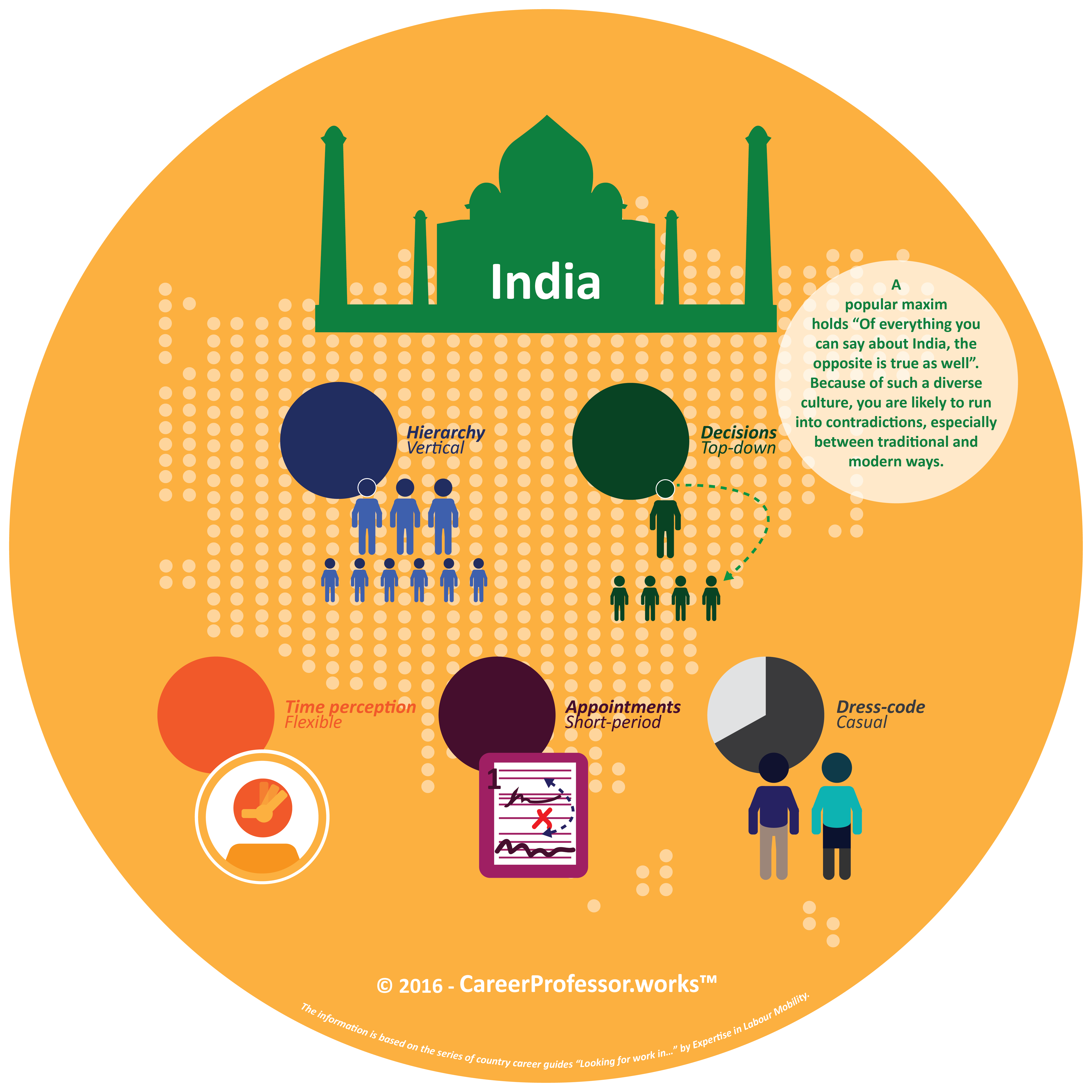 Hierarchy
There is high power distance in India. It is fully acceptable for strong hierarchy to occur in most Indian organisations. They have high need of structuring relationships, with an aim to attach a set of responsibilities and expectations to a certain person in a senior position. Typically, the manager is responsible for taking care of his or her* employees, and in return, her subordinates will be expected to show great loyalty to her without any questions on her authority.
Keep in mind that India is a big country, carrying the slogan 'unity in diversity' for a reason, hence organisational structures can be very different from the north to the south.
Decision-Making
Very long decision making processes should be expected when it comes to working with Indians. They are quite comfortable with uncertainty and ambivalence, so delays in decision-making usually take place unless making a decision has become absolutely urgent.
Most of the major decisions are made by senior managers. Employees are sometimes encouraged to take decisions at lower levels. Tasks and assignments should be divided into small and controllable units, so that the management can easily keep track and supervise.
Time Perception
Indian people are flexible when it comes to punctuality. Arriving at a meeting 15 minutes after the official starting time is not rare. It is not that people mean to be rude or feel uninvolved, it is just their working style that being strictly on time is not seen as necessary. This also should be taken into account when setting deadlines for a project, as Indian people may have different perspectives regarding deadlines compared to western people.
Appointments
It is uncommon to set up an appointment to meet a colleague working in the same organisation, unless that person is on senior management level. People simply stop by and they expect you to be available for a meeting.
Appointments for commercial purposes should not be scheduled too far in the future, since there are high chances that they can be cancelled.
Dress Code
The Indian dress-code is relatively casual. Male employees will wear trousers and collared shirts to work. A jacket and a tie can be added when needed or for the more senior managers. Often female workers wear a colourful salwar kameez. Also on the management level female managers mostly wear sarees.
*wherever the text reads she or her, we can also replace this by him or his.
Rita Nguyen,
CareerProfessor.works team
Did you know that work culture in India is very different from that in South Africa?
© 2017 CareerProfessor.works. All Rights Reserved.
Comments
comments