Forget about generation Y. In this day and age, no matter your social cohort, most people prefer to get instant results handed to them, rather than investing time, making an effort, and working to get solutions.
It is a phenomenon that can also be seen in today's recent graduates looking for a job. A survey we have done recently at Expertise in Labour Mobility shows that students and recent graduates indicated a preference for their universities "to announce job vacancies & career events" rather than to provide them with "career advice using blogs and websites".
But does a list of job vacancies really help them in getting hired? When you look at LinkedIn, for example, you can see an abundance of job postings in various industries for different positions. A job seeker could filter the positions (s)he is looking for based on factors, such as location, experience level, and salary. It seems like the world is at your fingertips. However, I am sure you are familiar with the phrase "Give a man a fish and you feed him for a day; teach a man to fish and you feed him for a lifetime"; in this case, even when you provide students with a list of job vacancies, there is no guarantee that they will get a job.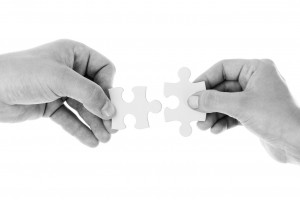 When you find someone on LinkedIn who is working at a desired company or has a relevant position, what do you do with this information? Do you add the person to your network? Do you simply send a message without connecting? Will it annoy the person or will it show initiative? Does it make a difference if the person is Dutch, German, Chinese or Indonesian?
Based from my own experience, Indonesians are more willing for instance than Germans, to connect with people they have never met. With Indonesians you can add someone to your network; send her/him a message, and maybe, if you are able to build a relationship, you might get some help with your application in the form of an introduction. On the other hand, connections and personal relationship will not get you far with Germans. You need to play your cards right, know what to say and what not to, how to address the person (because Sie is not the same as Du), and of course, have the right set of skills and educational background for the job and they need personal proof of your ability.
Without the proper How-To knowledge, a job applicant can ruin his/her chances of success at a job just by making a wrong first move. If graduates want to successfully make the step from higher education to the world of work, they need the right tools to process the information and learn to fish instead of expecting instant solutions.
Selene Siregar
The CareerProfessor.works Team
© 2017 CareerProfessor.works. All Rights Reserved.
Comments
comments